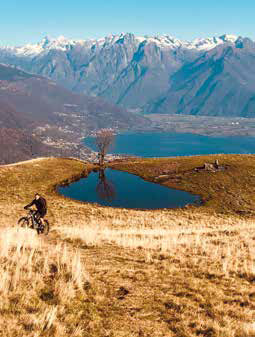 DISCOVERING NATURE ALONG THE BANKS OF LAKE COMO, BY BICYCLE OR ON FOOT FOLLOWING SOME CAPTIVATING ITINERARIES.

Western upper Lario is the ideal destination for lovers of biking or ramblers heading for the higher parts. Bikers can enjoy relaxing outings on cycle paths along the shore or more challenging engagements at altitude. One of the most popular of the latter is the loop from Gera Lario leading to Alpe Gigiai which includes an adrenaline-fuelled descent along Montalto and Montemezzo. An alternative might be the route that heads from Dongo to Zeda amidst the Garzeno mountains returning from San Bernardo to Musso. For those more interested in trekking, there are outings with magnificent panorama.

The more experienced might consider the "Alta Via del Lario": a 50 km high-altitude itinerary to be tackled in stages. Starting from San Bartolomeo it heads for the Rifugio Menaggio, taking in some of the magnificent peaks of upper lake Como: Berlinghera, Sasso Canale, Duria, Marmontana, Bregagno, Grona, all of which can also be reached on day outings. For anyone looking for something less demanding "La Via dei Monti Lariani" links Sorico with Val Menaggio along paths at an altitude of no more than 1200m. There are also any number of choices leaving Dongo. Hikers looking for an attractive, undemanding outing can opt for a route heading to the Giardino del Merlo. An alternative, again from Dongo is Monte Crocetta from where you can continue to the church of San Bernardo at Musso. Just behind Dongo the Valle Albano stretches out with its very own park: and from the Passo del Giovo you can head off to discover all manner of animal and plant species typical of the Alpine region.

Autumn throws up unique scenarios along the kilometres of the Stazzona trail. Winter, and the arrival of the snow offers unmissable excursions on snow racquets to Monte Berlinghera, leaving from San Bartolomeo, or indeed to Monte Bregagno from Monti di Gallio taking in the church of Sant&´Amate along the way. There&´s also an itinerary from Lario to Ceresio. Nature lovers can appreciate some of the Valsoda State Forest. Trekking features include routes along Lake Piano in Carlazzo. The cycle path that connects Lake Ceresio with Lake Como is one of the most popular itineraries that links Porlezza with Menaggio as long ago as 1884.
Contacts
Information:
www.northlakecomo.net