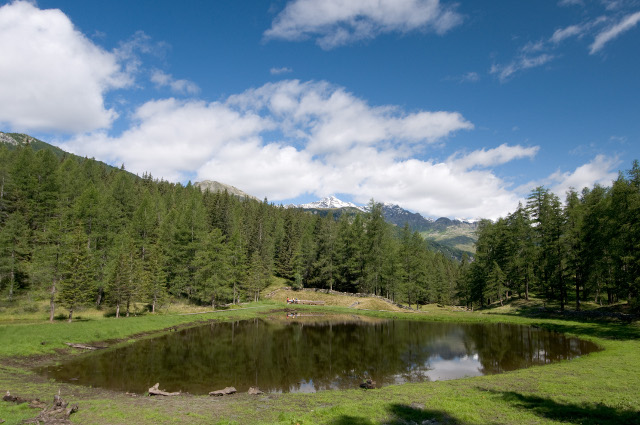 Initiatives and activities celebrating the values, life and work of Luigi Guanella continue apace following his canonization last October. He was born in Fraciscio on the 19th December 1842. Moving to Como at the age of 12 to study for the priesthood led to his early pastoral work which took him first to Prosto, then Savogno dedicating himself to the poor and destitute, then in 1875 to Torino alongside don Bosco. Back in San Giacomo Filippo in 1881 he spent some months in isolation at Olmo. Appointed parochial administrator at Pianello del Lario, he oversaw a small hospice for orphans and the elderly before establishing the "Casa Divina Provvidenza" which served the needs of the most impoverished within society. Support for his work came from the faithful throughout Italy, Switzerland and even the United States.
In order to understand the spirit and essence of the man, five walks 'sentieri meditativi' have been established in his memory - some of them situated within the magnificent and unspoilt Valle Spluga.
They represent splendid opportunities for tranquillity, reflection and contemplation whilst following, quite literally in his footsteps. Details of the spiritual journeys are available locally.
One leaves Guanella's home at Fraciscio - a natural enough starting point - and leads to Gualdera. A second one heads off from Olmo and a third invites you to explore
within the Riserva Naturale Pian di Spagna – Lago di Mezzola.
Each itinerary has a spiritual theme and along the way the walker encounters small installations bearing key phrases representing the Saint's Faith and Calling.
| | |
| --- | --- |
| | |