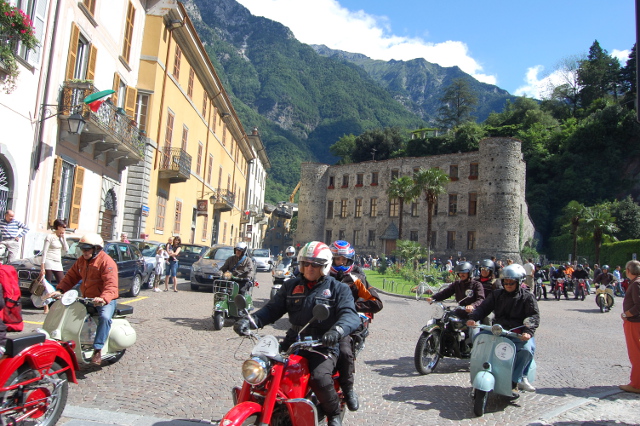 Biking through the countryside is a fantastic means of enjoying life to its full. Better still if the bike you're riding just happens to be of the vintage variety: a classic way to appreciate everything at a slower pace, stopping regularly to take in those very special places, a beauty spot, a monument or architecture/art revisiting times past. And naturally enough to enjoy all that the area offers in terms of gastronomy and hospitality. Valchiavenna has all this in abundance.
All the way along the SS36 from Lago di Novate, to historic Chiavenna up the Valle Spluga or alternatively up the SS37 that leads up to Valbregaglia via the Maloja pass. The road up the Spluga remains pretty faithful to the original opened in 1823 with spectacular hairpin bends evident along the Pianazzo stretch. The sinuous nature of the road on both sides of the border are much anticipated by motorbikers accompanied by magnificent views all around on the way up to the pass. There are landscapes, nature at its most striking, history abounds and all along the way you can enjoy typical traditional dishes and excellent wines. And the beauty of biking is that you can easily head off on some of the lesser roads leading to the evocative little communities like Pianazzola (above Chiavenna) or those dotted about higher up at Olmo, S. Bernardo, Fraciscio, Starleggia and the high valley plain above Madesimo.
And there's no shortage of dates for any bike enthusiast's diary c/o Moto Club Valchiavenna which has a fine record in organising events:
Late May sees the international gathering of the Moto Guzzi Galletto 'clan' dedicated to those lucky enough to own such a model - produced at the factory at Mandello on Lake Como and hugely popular in the fifties and sixties. Enthusiasts from Italy and abroad make the pilgrimage to Chiavenna before heading onwards and upwards: kindred spirits enjoying good company and local hospitality.
Onlookers can't fail to be impressed. And on Sunday 22nd July the now familiar SPLUGA RALLY for VINTAGE BIKES of all types is another pretty spectacular event. The Piazza Castello in Chiavenna awaits (from 08.00 – 11.30).
| | |
| --- | --- |
| | |