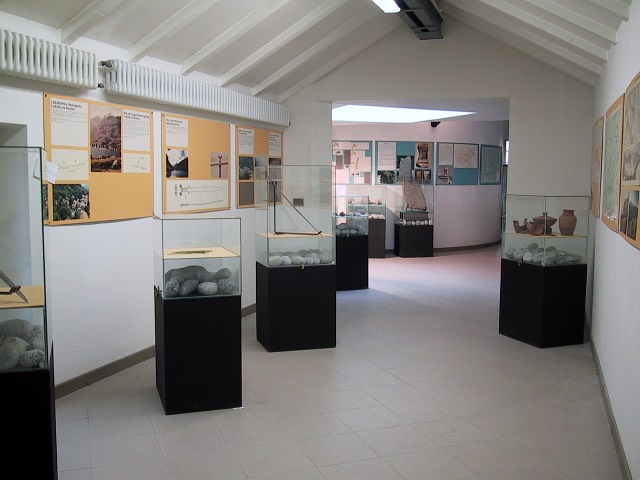 The museum of Valchiavenna is in the Valchiavenna Library, a bit further the Castle Square and close to Paradise archaeological botanical Park.
A plastic model represents a part of Pian dei Cavalli important landscape, in Val S. Giacomo, where during excavations campaign, managed by prof. Francesco Fedeli of the University of Naples, very ancient finds were unearthed as well as lithic remains, here displayed .
A room is dedicated to the Roman Age, recent finds are displayed there, unearthed during building works in the area of Chiavenna: a remarkable amount of material (ceramics, glasses, pot stone). Older finds are scattered in private houses and museums of Lombardia. Other rooms are dedicated to the Bronze Age.

In the nearby there is the 19th century Mill of Bottonera, a rare example of previous industrial Mill.

PREHISTORY ROOM

This room introduces the most ancient Valchiavenna history, through a choice of finds and information as a result of the archeological campaigns led by prof. Francesco Fedele, teacher of anthropology at the University of Naples, in the Pian dei Cavalli area in the Spluga Valley.
There have been a lot of relevant finds (yellow spots in the picture above mark the discovery sites). The mesolithic period plays a big role in the exhibition. This period represents the most charming discovery and gives an idea of the "first steps" of humankind in the Alps (at about 8500-5000 b.C.). The sequence of the different chapters on prehistory is represented upright on a panel set at the entrance. Other panels describe and picture on the whole the archaelogical research.

Visiting hours
Booking at Comunità Montana della Valchiavenna

Prices
Adults: € 2,00.
Kids (up to 18 years old), Students, Groups (min. 15 people), People over 60: € 1,00.